米フロリダ州マイアミで、12階建ての住居ビルの一部(136部屋のうち、55部屋)が、深夜に一瞬で崩壊しました。
12-story residential building partially collapsed in Surfside, Florida. The oceanfront complex has 136 units, and approximately 55 of them collapsed along the northeast corridor. 
※complex=複合ビル そのほかa high-rise condominium buildingや略して condo
A large section of Champlain Towers crumbled to the ground in the early hours. It took just a few seconds.
※crumble ボロボロに崩す
※in the early hours 深夜に(12時から午前3時ぐらいまで)→in wee hours before dawn (未明に)
崩壊を免れた住居から、クレーンを使って救出作業が行われました。
Rescuers used cherry pickers and ladders to evacuate at least 35 people from the still-intact areas in the first hours after the collapse.
※cherry picker 垂直に上下する移動クレーン
※evacuate 避難させる、(危険区域から)移す
※intact そのままの、 損なわれないで
生活の様子が見える現場です。
Computers, chairs, comforters(掛け布団), and other personal belongings were evidence of shattered lives amid the wreckage of the Champlain. 
A child-size bunk bed(二段ベッド) perched(高いところに止まる) precariously on a top floor.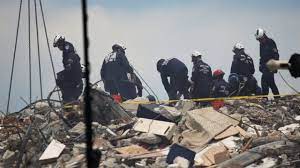 多くが行方不明の中、生存者を求めて救難作業が行われました。
Neary 100 people were still unaccounted for, raising fears that the death toll could climb sharply.
※unaccounted for 行方不明→missing  ※death toll 死者数
A massive search and rescue operation was launched before dawn and crews are still carefully combing through the wreckage and remaining structure in hopes of finding survivors.
※comb throughくまなく探す
※wreckage(難破船や飛行機等の)残骸 →rubble(建物が壊れてできたがれき)
しかしパンケーキクラッシュ(上の階から下の階にフロア自体が崩れ落ちるように倒壊する)の場合、生存できる隙間はできません。
Pancake collapse is a structural collapse where the collapse occurs from the top-down as upper floors settle into lower floors of a building or other structures. 
That type of collapse provides practically no "voids" or "a pocket of space" where a person could survive.
悪天候を前に、建物は解体され、遺体の回収に作業の方向を変えることが告げられました。
Remains of collapsed Miami building demolished before potential arrival of Tropical Storm.
Emergency workers gave up on any hope of finding survivors, telling sobbing families that there was "no chance of life" in the rubble as crews shifted their efforts to recovering more remains.
※sob むせび泣く※recover remains 遺体を回収する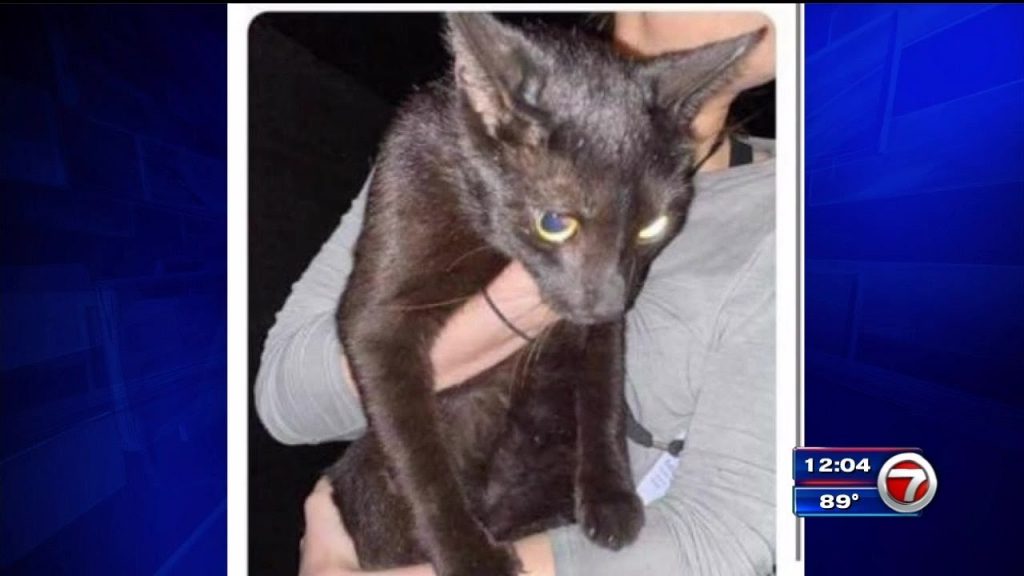 そんな中、倒壊から2週間後に、猫が無事に発見されたというニュースが入り、一筋の希望となりました。
A cat that lived on the ninth floor was miraculously found alive two weeks after the building came crashing down. 
The skinny black feline, Binx, belongs the Gonzalez family, formerly of unit 904. 
It wasn't clear how the feline managed to avert cat-astrophe — but his resilience may offer the family a glimmer of hope.
※catastrophe災害 catとかけてある。
※resilience弾性、回復力
※glimmer of hope一筋の希望